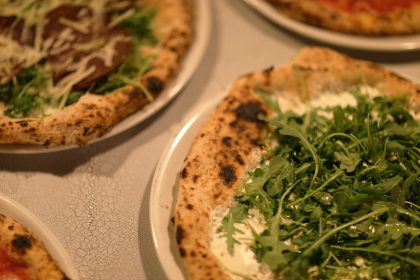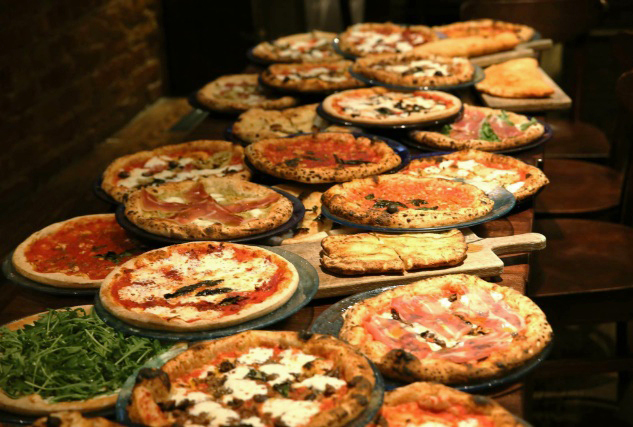 "Ah, pizza, the food that so many New Yorkers say they can eat for every meal, every day, without even giving it a second thought."
Well, you've got an opportunity to test your devotion to the sacred pie now, because Williamsburg pizza place Keste (232 North 12th Street) has announced a two-hour all-you-can-eat pizza marathon every day at their restaurant starting Friday.
Keste Williamsburg, co-owned by Roberto Caporuscio, a man who learned everything he knows at Pizza College (okay fine technically it was the Associazione Verace Pizza Napoletana in Naples), now offers a deal that gets you all the Neapolitan pizza by the slice that you can stomach in two hours for just twenty bucks.
And you're not just limited to a margherita pie either. You can chow down on ten different offerings, like the Bianca with Arugula (fresh mozzarella, arugula, grana, extra virgin olive oil), the Pistaccio E Salsiccia (fresh pistachio pesto, sausage, fresh mozzarella, Pecorino Romano, basil, extra virgin olive oil) and the Marinara Keste (tomato sauce, cherry tomatoes, oregano, fresh garlic, grana, basil, extra virgin olive oil).
The deal will be available for true pizza heads from 5 p.m. to 9:30 p.m. on weekdays and 11:30 a.m. to 9:30 p.m. on weekends. Here's some advice from me, someone who used to eat a shift pizza at Roberta's multiple times per week: work up an appetite by riding your bike 25 miles or so with something heavy strapped to it before you sit down to eat. You'll be hoovering down slices like you're Homer Simpson in Hell.
(To read the full article, click here)
Copyright by David Colon from Gothamist