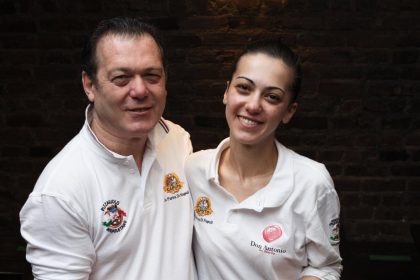 Pizza master Roberto Caporuscio and his daughter Giorgia Caporuscio have opened their fourth restaurant, Kestè Pizza & Vino. The design of the 150-seat pizzeria, located in the Financial District, is inspired by a rare copy of the 1866 book "Usi e Costumi di Napoli," which gave clues to how pizzerias were designed in the late 19th century. As a result, Kestè features aged wood tables, ceramics from the Amalfi coast, and copper pizza ovens. Kestè means "this is it" in the Neapolitan dialect.
Seventy pizzas—all original creations by Roberto Caporuscio—include seven types of fried pizzas, 18 types of gluten-free pizzas, and 20 seasonal pizzas that reflect Italy's regional cuisines. The classic Pizza Margherita is made with all-organic flour, cheese, and tomatoes.
There is a pizza school on site that teaches pizza-making to both professionals and amateurs. Roberto Caporuscio is the U.S. president of the Association of Neapolitan Pizza Makers, the Italian governing body that teaches Neapolitan pizza-making.
Open daily for lunch and dinner.
Kestè Pizza & Vino
77 Fulton St. (near Gold Street)
Financial District
212-693-9030
KestePizzeria.com
By Channaly Philipp