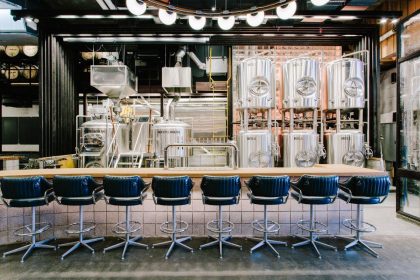 Mamma mia! How much pizza can one person eat? Hopefully a lot, if you're planning on trying the new all-you-can-eat pizza option at the Kesté location in Williamsburg (232 N. 12th St., Brooklyn).
For $20 per person, stuff yourself with different slices from pies like the Margherita with Proscuitto; Noci E Porcini (fresh mozzarella, cream of walnut, porcini mushrooms, Pecorino Romano, basil, extra virgin olive oil); and Pistaccio E Salsiccia (pistachio pesto, sausage, fresh mozzarella, Pecorino Romano, basil, extra virgin olive oil). This "Marathon Pizza" offering will be available Monday through Friday, 5 – 9:30 p.m., and on weekends, 11:30 a.m. – 9:30 p.m.

New to the scene…
* Cheers. Downtown Brooklyn is getting a new brewery and pizza place. Circa Brewing Co. (141 Lawrence St., Brooklyn) is set to open Wednesday as a 6,000-square foot space that doubles as a brewery and restaurant. The joint's design was inspired by Brooklyn's industrial manufacturing spaces and makes use of cast glass block, steel and rough-sawn solid wood. You'll also spot stainless steel fermenting tanks encircled by a 70-foot long oak worktop bar in the main beer hall. All beers will be brewed on-site and sold by the glass, flight, or in a growler to-go. Wines will be sourced from Brooklyn Navy Yard's Rooftop Reds. Fill your belly with Napoli-style wood-fired pizzas like the Big Dipper, made with truffle béchamel, pig cheek, melted leeks, and pork jus dipping sauce. There will also be fire-grilled meat and veggie plates.
(To read the full article, click here)
Copyright by Gina Salamone from Daily News